Barnadu – the village from the mountains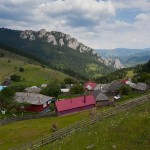 To witness its beauty you'll have to walk on a trail that goes through the forest, along Sugau river valley. You can also reach this place by car through Lapos creek valley. Just before you'll reach the first houses the trees let you see this incredible panoramic view over the village and the surrounding edges: Munticelu, Criminisu and Hasmasu Mare peak.
Barnadu village is located at the foot of Ciurgau peak on a ridge that separates Bardos and Sugau. The houses are made of wood and are built in the traditional way. The scenery that surrounds this place is breath taking: here you'll see green fields, with traditional fences and traditional mountain houses. Behind the massive rock walls from Bicaz Gorge is this village where time seems to be frozen in a moment.

Barnadu the village in the mountains, Neamt County
Barnadu, the village from the mountains is like a relaxation oasis, away from the noise and the agitation from Bicaz Gorge. Who passes through this place will see much more than just trees and houses … a beautiful place that is perfect for one day hike and relaxation.