Ceahlau – the summer destination for hikers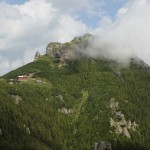 Ceahlau Mountain represents a very attractive touristic destination for those that love mountain hikes and the fresh air. This is the most imposing mountain from the Orient Carpathians and has the following protected areas: "Ocolasul Mare" Scientific Reservation, "Polita cu Crini" Botanical Reservation, Duruitoarea Waterfall and "Avenul Mare" nature monuments.
The touristic area of Ceahlau Mountain is accessible from four roads. From the west of the country on the route Toplita – Borsec – Tulghes (DN15), from the north through Bistrita – Vatra Dornei – Brosteni – Poiana Teiului (DN17B), from south west through Gheorgheni – Lacu Rosu – Bicaz (DN15D), from the east through Roman – Piatra Neamt – Bicaz (DN15D) and from the north east through Targu Neamt – Piana Largului (DN15B).
Durau resort and Izvorul Muntelui chalet are the most used ways to access Ceahlau touristic routes. The third access point is through Stanile plain from Bicazul Ardelean to Bistra and finally Stanile plain. During summer you can climb to the top by using one of the 7 touristic routes.

Ceahlau – summer touristic destination, Neamt County
Ceahlau Mountain, also known as Kogaion is a mountain as famous as Athos Mountain, Tabor or Golgotha. Each year on August 6 there is the celebration of this place when many pilgrims come to the monastery from the top of the mountain.