"Live Reptiles" Exhibition from Piatra Neamt 2013
22 September 2013
No Comment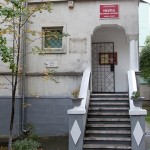 Between September 19 and October 31 2013 will take place at the Natural Science Museum from Piatra Neamt the "Live Reptiles" Exhibition. The opening of the exhibition was on Thursday, September 19. The exhibition contains over 75 reptile species from all over the world.
Among the reptiles in the exhibition are some of the most dangerous species in the world like taipan, black mamba, green mamba, African vipers, cobras, rattlesnakes, pythons, boas, anacondas, turtles, tarantulas, caiman, and several species of lizards, spiders and crocodiles. The exhibition belongs to Florin Sarbu.

Reptile exhibition 2013
The exhibition is quite unique and has an educational purpose to introduce the tropical fauna to the public. The price of a ticket is 3 RON for children and 5 RON for adults. The visiting hours of the museum: from Tuesday to Sunday from 10:00 to 18:00, in September and from 09:00 to 17:00 in October.