Diversity of fauna on lakes Batca Doamnei, Vaduri and Pangarati
21 October 2013
No Comment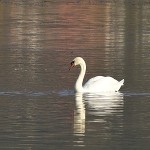 Just like every year swans and wild ducks return on the three protected lakes near Piatra Neamt. Through the beautiful feathers and the elegance with which they swim the swans offer a beautiful show to all tourists.
The three lakes, Batca Doamnei, Vaduri and Pangarati are well safe from violent winds and its surfaces don't freeze entirely, offering a perfect stopping place for these migrating birds. The food and the warm waters also contribute to the high number of birds that stop in this place.

Swans and wild ducks
On the shore of Pangarati lake there are three wood observatories from where tourists can watch the birds. Along with the swans and the wild ducks there are also birds like coot, silver gulls and little grebe.
The winter swans, as they are called by locals are protected by law and have become a local attraction: many tourists come to this place to take a photo with these beautiful birds.