Spring scenes on the route from Piatra Neamt to Ancutei Inn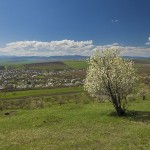 Spring is here and to enjoy this season at its full we invite you to spend some time in Neamt County, on a route that starts in Piatra Neamt and goes to Ancutei Inn, through places full of history and wonderful scenery. The perfume of the blossomed nature and of the fresh green calls you to discover the beauty of nature.
Located at 17 km from Piatra Neamt, on the territory of Stefan cel Mare commune, there is a rock formation with the face of a human, called the Rock from Serbesti. From up here you can admire the surrounding fields of bright colors of yellow and green. You can also see Ceahlau Mountain far in the distance.

Route from Serbesti rock to Ancutei Inn
Afterwards you can visit Razboieni Monastery, a religious settlement built by ruler Stefan cel Mare in memory of the battle from "Valea Alba" Valley from 1476. The church was built in memory of a battle that we lost but the ruler wanted to commemorate the fallen men that protected their country and religion with their lives.


After a day of wondering you might want to stop at Ancutei Inn, located in Tupilati commune, at the intersection of the roads that go to Roman and Piatra Neamt. The inn is famous because of the writer Mihail Sadoveanu that wrote a book with stories from Ancutei Inn. Now days the inn is restored and you can stop and dine here.