Horaita Monastery
17 October 2014
No Comment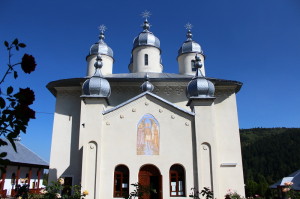 Horaiţa Monastery can be reached by car walking on National Road 15 C, Piatra Neamt – Targu Neamt. At Dobreni, turn on an asphalt road, pre-signaled, and go through another 15 km on county road 156A, through Negreşti and Poiana. From Poiana, the road runs through a beautiful mixed forest of deciduous and coniferous
Also, you can reach the monastery from Crăcăoani, where there are only six kilometers on unpaved country road. Whatever path you choose, you'll pass through a gate to the monastery and you come forward, or to step away a few hundred meters on a paved road flanked by fir-trees at the end of which stands the monastery. The place is absolutely gorgeous, surrounded on all sides by forest.
The place of worship from Horaiţa is mentioned in 1428, in a document issued by the Chancellery of Alexandru cel Bun and has an interesting history. By way of information, we remember that at the monastery Horaiţa, Charles the 2nd, has spent 75 days of detention decided by King Ferdinand. Enter in the monastery is under The Bell Tower built in 1853 which is covered with a dome by slavic inspiration. The alleys are flanked with layers of flowers that give a celebrating air. In the monastery are well kept many valuable items: icons, books, silver framed gospels of eighteenth and nineteenth centuries, among which is the miraculous icon of the Virgin Mary, painted in the nineteenth century, also known as "Drought Savior"or "Our Lady of Horaiţa" taken out in procession every year on Healing Spring, at Horaicioara Hermitage, located near the monastery.
The Church inside the monastery, covered by eight towers that remind of Russian churches, is massive, with thick walls, and the inside painted by well reputed painter Mihai Chiuaru, the most important painter of churches in Moldavia, it surprise you by proportions and by the exceptional architectural solutions.
The pilgrim who wants to know the true corner of paradise,  can be accommodate in the cells, dinner being provided by the courtesy of the monks of the monastery.