Craftsman Vasile Neamţu
21 October 2014
No Comment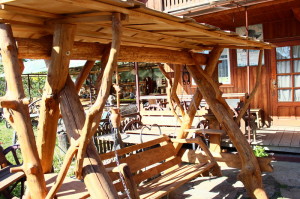 We will find Vasile Neamţu in his workshop joinery and carpentry in Nemtisor village, Vanatori commune, Neamt county, unless he's gone, as a guest at a festival, in a creative camp or at any fair field.
Together with his wife, homemaker hardworking woman, gather from the forests crooked timber, and leaving their mark on crooked wood joints, brings on the form of the strangest and useful things through a new craftsmanship, which gives them both a new impetus to world, thirst and love of life. He is a member of the Association of Artisans from Moldova – Iasi and he works "all for all" including carved wooden masks, masks sewn fur, tools and household objects, "buhai" and "dobe" for carolers.
In his home, taking the example of Nicolae Popa from Târpeşti that his wife is related, he has exposed the ancient folk art objects collected from the village Nemtisor,  representative of the traditions and crafts here. He gathered many things found in the markets or elderly households in village: popular costumes, bottom drawers, quiver of outlawry, other objects once devoid of farms, some over 100 years old.
Neamţu family door is always open for relatives and friends, but for the curious who catch a glimpse of wonders over the fence gathered in the backyard, the swing, the rocking chair, wagon wheels, etc. Craftsman Vasile Neamţu seeing us as we look over the fence, invites us with his funny voice:
"Come on in, do not stay at the door! At my home it's not like at the museum. It's like two museums! "