Nicolae Popa Ethnographic Museum from Târpeşti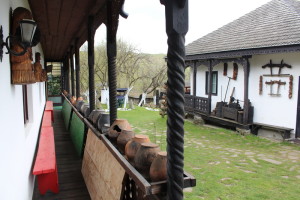 In the village Târpeşti, Petricani commune, Neamt County is one of the most beautiful and interesting museums in Moldova. Nicolae Popa, the creator of the museum, known as a craftsman, artist, exceptional collector, writer, learned as a child to make masks for the New Year, and later, to carve in stone (hone) and to wood carve faces of people with original appearance. His works have participated in exhibitions both at home and also in major cities worldwide from Italy, Poland, Yugoslavia, France, Switzerland, Argentina, USA, Mexico, Belgium, Germany, the Netherlands, Mongolia, China, Sweden, Japan, Canada, Bulgaria.
On both sides of the alley leading to the museum, greets you for welcome naive sculptures in wood and stone, creating an area of ​​freedom where you feel worn in another world. At the entrance the museum, fixed to the wall, are masks, each representing a character. The museum is arranged in a traditional house that has 6 rooms and a specially built pavilion. The permanent exhibition includes objects grouped into themes such as archeology, with objects from the Neolithic inventory and Dacian, some of definite value (The Thinker), and objects related to place concerns; numismatic, with ancient coins and current pieces from Romania and countries from all continents; ethnography, with utilitarian objects, decorative and pieces of traditional garments specific to the area; iconography, comprising a number of old icons on wood; naive painting and sculpture naive collection made up of works made by Neculai Popa.
Visiting the museum we admire with a growing curiosity the folk costumes, props for popular theater, the peasant clothing outfits, the masks used by carolers which decorates the walls, hall wallpapered with dozens of framed diplomas. We sneak through the exhibits, we spins around them, not to touch them and not able to grasp and see everything, not to miss a thing. It is a private museum so we can take photos and movies for memories….There are no visiting hours, but when we arrive in daylight, we will find the door open and welcoming hosts who will tell us the story of each object.