We are thrilled to invite you to Neamţ Music Festival!
10 September 2019
No Comment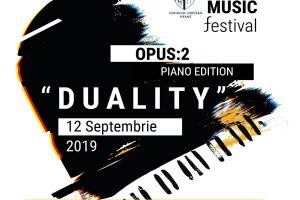 The 3rd edition of Neamţ Music Festival has proudly been included in official the programme of the prestigious George Enescu Festival.
The opening of the event, on Thursday, September 12, and the Gala Concert, on Sunday, September 15, will both take place at Cinema "Mon Amour" in Piatra Neamţ, former "Dacia" Cinema, starting at 7 P.M. The second evening of the festival, on Friday, September 13, will be held at Rubik Hub, on the territory of the Lido in Piatra Neamţ, starting at 7 P.M. The 3rd day of the festival will take place inside the courtyard full of history of Neamț Fortress.
On the first evening of Neamţ Music Festival the audience will enjoy an extraordinary piano concert performed by Daniel Ciobanu, whose talent is wide known all around the world and who is also the artistic director of the 2019 edition of the festival.
Tickets can be purchased from "Carmen Saeculare" Centre for Culture and Arts in Neamț, institution which is co-organizing the festival together with "Daniel Ciobanu ART" Cultural Association.
The price of the ticket for the events on September 12, 14 and 15 is 40 lei/seat. Those interested in attending each of the evenings of September 12, 14 and 15 can purchase subscriptions, the price of such amounting to 100 lei. The entrance at the jazz concert on September 13 inside the premises of Rubik Hub if free of charge, based on invitation.
For more details, please call: +4 0233/214.026