Neamţ Fortress and its guards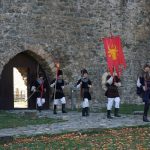 Commissioned by Petru I Muşat and then extended and consolidated under the rule of Stephen the Great, who also set up a defense trench with an arched bridge, the imposing fortress resisted many sieges of the many enemies. Important pages of heroism were written here, such as the eight-day opposition to the furious Ottoman siege led by none other than the fearsome Mehmed the Conqueror following the battle of Războieni (1476) or the glorious episode written in their own blood by the 19 frontier guards facing the Polish army led by Jan Sobieski, in 1691. All these stories still reverberate with life behind the stone walls, captivating the visitors.
Visiting Neamţ Fortress, you will symbolically enter old pages of history, and if you are lucky enough, you will have the opportunity to meet the guards of Stephen the Great, the princesses of those times and you can witness the exchange of guards, various combat demonstrations in clothing of the epoch and knights parades.