Neamt, connected by tourist routes, links together beauties and attractions
3 November 2023
No Comment
Neamt, this land that has endured for centuries in the heart of Moldova, never fails to impress with the magnificence of Ceahlau, the restless waters of Bistrita, the ancient Musatin walls, the masterful paintings at Agapia and Durau, and the evocative atmosphere of Humulesti. A world with an aura of legend depicted in immortal literary pages, as fundamental authors have made Neamt the most frequent Romanian land in works of literature, a living history of Romanian literature.
With each new journey that takes you here, Neamt County is an impressive destination, a unique space, as Miron Costin said: "… if the goddesses from Greek fables had known about these lands, they would have certainly come here from their Olympus."
Ceahlău, the Olympus of Moldova, is a large and impressive open-air museum that can be explored by tourists on all eight approved tourist routes. Complete details regarding difficulty level and time required for each route can be found on the website of the Ceahlau National Park Administration: https://www.ceahlaupark.ro/trasee-turistice/
18 mountain tourist routes cross the Bicaz Gorges, recognized as the most spectacular in the country due to the impressive landscape that unfolds before your eyes and takes your breath away: high rock walls rise towards the sky, as if in an attempt to reach infinity, allowing the road to meander through them and flow gently, accompanied by the murmur of the turbulent water that has carved through the rocky walls since ancient times, forming wild landscapes, a true tourist attraction, unique in Romania.
Since last year, the famous ancient pilgrimage routes of Camino de Santiago and Via Mariae also pass through Neamt County.
We invite you to explore these routes and visit our website for more information: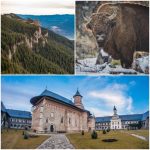 In addition to these pilgrimage routes, tourists can admire true "village treasures" in Neamt if they embark on the "Old Wooden Churches of Neamt County" route, and they can discover folk art, traditional craftsmanship, and vernacular architecture if they follow the "The Hope Chest of Neamt County. The Art of Wood" route. Moreover, the medieval heritage of our county has made it possible to create the "Stephen the Great Testimonies in Neamt County" route, and the prominent cultural personalities who have lived in our county have led to the creation of an impressive universe of memorial museums highlighted by the "Memorial Houses in Neamt County – Landmarks of Neamt Literature" route. The "Rediscovering Local Traditions. Neamt Ethnographic Collections" route speaks to us about folk art, ancient symbols, and the long tradition of crafts and craftsmen that miraculously survived unchanged in Neamt County until today.
Part of Neamt's rich ecumenical heritage is highlighted by the "Christian Establishments in Neamt County" route, and for those who have not ceased to believe in miracles and in God's infinite love, there is the Route of Miracle-Working Icons.
With its rich heritage, numerous protected natural areas, over 530 historical monuments, and accredited tourist resorts, Neamt County is one of the most attractive counties in the country. In 2018, it was declared a European Destination of Excellence and offers tourists a multitude of reasons to visit and discover it.
Through all the beauties – mountains, hills, plains, waters, floodplains, dizzying gorges, the famous Bison land, the caves and forests, but also a miniature sea in which Mount Ceahlau, the "Olympus of Moldova," is reflected, Neamt County is certain to instill a unique, unforgettable experience for travelers crossing its borders. Land of beauty and wonders, Neamt County seems taken from one of Mihail Sadoveanu's tales: "After God separated the waters from the dry land and after wrinkling the earth, He began the impartion of gifts to all lands. He gifted the sea, silky and blue to some of the lands, He sat other realms with tall mountains, covered with snowy white coats, He covered some lands with fields of gold, above all of these placing the high heavens. But there was an empty place left, which He had either forgotten, or had overlooked in the first place, before the wrinkling of the earth. Then He took from each, not much, just as much to fill a land that you would walk one day and one night with full moon."