The church St Nicolas from Roznov – Neamt County
24 September 2009
2 Comments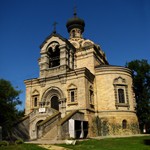 Address: city of Roznov, Neamt County
Built: 1884-1892 by Colonel Gheorghe Ruset Roznovanu
The church is located in the park from the city of Roznov and it was built at the end of the XIX century by the famous political man, the colonel Gheorghe Ruset Roznovanu, in memory of his sun Alexandru who died at the age of 20 by pneumonia. The building has an unusual architecture for the area at it resembles a church with Russian influences in its architecture. This is due to the connections between the colonel's family and the Russian nobility.
Just like the Russian churches, this one is made out of stone on the outside, with the shape of a cross with even arms, with a bulb style dome and ornaments with three rows of arches with diminishing sizes towards the base of the tower. Between 1890 and 1892, in Moscow, the wall that separates the altar from the rest of the church was made out of golden bronze.
Under the high foundation there is a big cellar where Roznovanu built a crypt for his family. The painting of the church was made between 1913 and 1915 by Costin Petrescu, who also painted the Romanian Athene from Bucharest and the Cathedral from Targu Mures.
The church hosts cult objects of great value: two icons that the family Roznovanu received as gifts – one from the duke Pavel Alexandrovici and the Tar Nicolae the Second and another from Leon Urusoc, ambassador of Russia – a Gospel written in Slavic from 1644 and an epitaph covered in gold and silver, sewed and donated 115 years ago by Glafira, the cousin of the founder of this church.
The church received important donations in the form of cult objects, many of them with a priceless value.



Photo Album
Click the images for a a larger version