Pilgrimages in Neamt County: from Sihastria Monastery to Sihla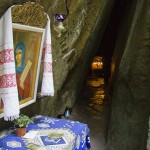 Neamt County has the highest number of monasteries in the country and that's one of the reasons for having so many possibilities for pilgrimages. The monasteries from Neamt County are also some of the oldest in Romania and they are located in places of rare natural beauty. The priests that lived here are famous in all Romania. For all these reasons pilgrims will have a special personal and spiritual experience when walking from one monastery to another.
These hikes between monasteries, that we also call pilgrimages, represent much more than just a physical action that take us from one place to another: it's more like a journey of our soul. It may sound strange but walking in the mountains from Neamt County, to these monasteries, it has something unique to it that makes you feel that you're doing much more than a simple walk in the woods.
From Sihastria Monastery you can reach Sihla either by car, on an 8 km dirt road, or by foot on a 3 km hike. We recommend visiting Sihla Monastery by walking to it. Sihla is located in the south-east of Stanisoara Mountain and the area is locally known as Sihla Mountain.
This place has a great religious importance to Neamt County, mainly because of all the priests and monks that lived in these forests.
That fact that you can walk on the same path that father Cleopa and  father Paisie Olaru walked, or the fact that you can pray in the cave where St Teodora lived for almost 40 years represents a wonderful experience. After all, the purpose of a pilgrimage is to change something in your human essence. Walking between monasteries gives you the time to think, to meditate and to make decisions.

The trail starts across the road from Sihastria Monastery: you can follow the blue cross on a white background or the power lines. After a short period of hiking you'll enter the pine tree forest. Almost the entire route is easy to walk, except for a small portion at the end.
Before descending to Sihla Monastery we recommend to visit first the cave where St Teodora lived. The path twists itself between big boulders that almost for sure hide many more caves where monks lived. Once you reach the cave a certain silence is all around you. All the pilgrims present there enter quietly to say a prayer and light a candle. It's impossible not to think about the fact that for almost 40 years a person lived and prayed here. That is why this place represents so much for the Romanian Orthodoxy.


After that the trail goes up on a small hill and then descents to a small church made out of the wood of a single tree. Once you reach it you experience a need to protect it. I think this is the beauty of this pilgrimage: at the cave you feel how small you are as a human and here at this small church you feel the need to protect it.
The trail will end at Sihla Monastery. If you reach this place at supper time and the monks invite you to sit down at the table with them for some soup don't refuse the invitation. As a human you also need to learn how to receive not only to give.
The hike from Sihastria to Sihla Monastery will not take you more than 2 or 3 hours to hike and maximum 1 hour to descent. We recommend you to make this small route on foot: you'll return with a feeling of joy in your eyes, in your hart and in your soul.