Tourist route in Cheile Sugaului Reserve: Munticelu Peak – Sugaului Rock – Criminisul Peak
12 November 2010
No Comment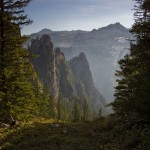 This tourist route from Cheile Sugaului is a spectacular one and will take you through places of rare beauty, reaching the beautiful Munticelu – Criminisul ridge. The route isn't bookmarked but it's easy to make it because of the trail that's well maintained by the locals.
The starting point of this route is also the entrance in Cheile Sugaului – Munticelu Nature Reserve, which is located at the entrance in Cheile Bicazului. The trail goes under a wooden gate and climbs parallel with Cheile Sugaului until it reaches Ecolog Chalet. From here you hike to the right, near the pointy rocks of "Piatra Glodului" Ridge.
The hiking is on a steep trail. The surrounding scenery is spectacular: on both sides of the trail massive stone walls guard the forest. Soon you reach a point where you can enter The Tunnel Cave ("Pestera Tunel" Cave). From here, if you look behind, you'll see the Limestone Quarry from Tasca.

Images from Cheile Sugaului, Neamt County
The trail continues to go up. Now we're climbing Munticelu Peak. The forest starts to fade away and in front of our eyes there are miles and miles of alpine planes. The spectacular view that surrounds you makes you forget about the effort you make to climb the hills.


After you pass Munticelu Peak, you'll see on the left a rocky formation: it's Sugaului Stone (Piatra Sugaului). You can take a moment to look over this rock formation, towards Cheile Bicazului: you'll have a spectacular view over Barnadu Village and Ciurgau Peak.
The trail will climb another hill, only to unveil to your eyes a beautiful view over Ceahlau Massif. You can also see Highes Peak and even Magura Peak from Bistrita Mountains. Criminisul Peak is near and it's also the ending point of our hike. This is also the border of Cheile Sugaului – Munticelu Reserve. We start the road back with the feeling of a successful hike and some great photos.