The Swans from Piatra Neamt and from the protected lakes of Neamt County
20 January 2011
No Comment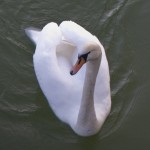 In the last years the lakes Pangarati, Vaduri and Batca Doamnei, from Neamt County had become the perfect place where wild water birds come to spend the winter. These lakes are located on the middle course of Bistrita River and represent and important link in the chain that helps support the natural habitats and the biodiversity of the eastern area of Europe.
Here are some of the species that come to spend winter every year on these three lakes from Neamt County: the summer swan, the big duck, the little Grebe, the black-necked Grebe, the red-necked Grebe and the small duck.
Locations of the swans in Neamt County on Google Maps
The number of wild birds that come in Neamt County to spend the winter is increasingly higher every year. The largest number is represented by the wild ducks but the most impressive bird is the white swan. Recently the white swans can also be seen in Piatra Neamt on Bistrita River. Many of those that pass near the beautiful birds take photos and for a moment they stop and look at how graceful they move on the water.

Photos with the Swans from Piatra Neamt
You can admire the swans if you go to the bridge that crosses Bistrita River. The people that live nearby are very happy to see the birds and every day they bring small pieces of bread to feed them. We all would like to see the swans and the small colorful ducks remain here in Neamt County all year long but maybe this is the beauty of things: the birds can be seen only few months every year and this is why they represent a true touristic attraction of Neamt area.