Ceahlau Mountain in 3D images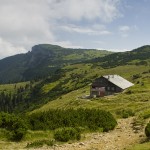 The unique feeling that the image of Ceahlau Mountain transmits is worth the effort to immortalize it using the latest technologies: HD videos and 3D photos. The touristic route that we choose to create this 3D photo album is called "Jgheabul cu Hotaru" and starts at "Izvorul Muntelui" Chalet and goes up to Dochia Chalet by following a blue triangle marking.
The unique elements that can be seen on this route are Dochia's stone and the juniper from the last portion of the route. From this area, while climbing, you'll see on your right the incredible beauty of Toaca Peak and the gorges that climb in steep slopes toward the base of the peak.
The 3D images realized on Ceahlau Mountain are part of a photographic experiment through which we want to show the entire world the touristic potential of this mountain and also of the entire Neamt County area. The photos we present in this pictorial show all the important elements from the route that we choose but also Dochia chalet and the monastery from Ceahlau.
To correctly visualize the photos you'll need special 3D glasses. The way you should look at these photos is with great care to details: the grass that seems to come out from the screen, the information polls, the trees, pieces of rocks or the entire construction of the monastery from the top of the mountain.

3D Images from Ceahlau Mountain in Neamt County
The images are meant to awake in people the desire to be on the mountain, to be up on heights among pine trees and stone walls: come visit Neamt County, climb Ceahlau mountain and experiment the feeling of freedom and total joy!