Jgheabul cu Hotaru route in Ceahlau Mountain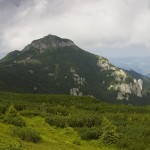 Jgheabul cu Hotaru route is marked with a blue triangle and starts at Izvorul Muntelui chalet. The initial portion of the route is on Lutu Rosu blue dot marking, until the intersection with the asphalted road that goes from Izvorul Muntelui to Durau resort.
After this point the route is marked with a blue triangle placed on orientation pillars. You'll have to walk on the asphalted road for about 2 km, until you'll reach an intersection from which the route goes on the dirt road from your left. This is also the point where many tourists prefer to leave their cars.
Izvorul Muntelui chalet (797 m) – Dochia stone (1185 m) – Dochia chalet
Markings: blue dot (from Izvorul Muntelui chalet until the intersection with the asphalted road) and then blue triangle
Difficulty: medium (during hard winters or in heavy fog conditions the upper part of the route can be dangerous)
The trail goes through a valley guarded by Rachitis's Foot on its left and along Izvorul Alb creek. The scenery is spectacular and soon the valley becomes narrow. At some point you'll have to cross a small water stream so waterproof boots are required.
You continue to follow the trail that goes through numerous limestone formations until you'll reach Dochia Stone. Under this stone there is a fresh creek that will help you cool off in hot summer days. You cross Poiana Izvoarelor plane and then you enter the forest on a steep trail.
At some point the trail will exit the forest and you'll see Toaca peak on your right. The trail twists itself through small pine trees. As you climb, a spectacular view opens behind you with Izvorul Muntelui Lake in the background.
This is the last portion of the route and soon you'll reach Dochia chalet. A word of caution regarding hiking during winter on this route: the upper part can be dangerous after a heavy snowfall or on thick fog.