5 Touristic Attractions from Agapia – Varatec area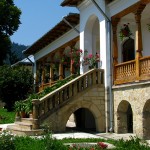 The area Agapia – Varatec from Neamt County is truly beautiful because of the natural scenery and because of the two main religious settlements from here.
Here are 5 touristic attractions from this area
1.The Religious settlement from Agapia is located near the creek Agapia – Topolita and at the foot of Magura Hill. Here you'll see the first religious museum that beside religious objects also exhibits medieval art. The church from Agapia was painted by Nicolae Grigorescu. Tourists that come to Agapia Monastery can also taste jams and pies made the nuns.
2.The paintings of Nicolae Grigorescu from Agapia are the main attraction of this religious settlement. The painting was made in 1858 when the painter was only 18 years old. He managed to create a realistic image of saints and religious moments. Many famous writers talked about the saints painted by Grigorescu at Agapia. Words cannot express how beautiful this painting really is: you'll have to visit this place for yourself and see it with your own eyes.


3.Agapia Veche Hermitage is located at about 2 km from Agapia Monastery and it represents the place where the religious life started in these parts. The hermitage was built in the XIV century by a monk called Agapie on the spot known today as "the orchid of the fathers". The rules from this hermitage are very strict: no stranger can stay inside the monastery after sunset.

4.The memorial house of Alexandru Vlahuta is located in the monastic village Agapia and is the place where the writer Al. Vlahuta was born. The house became a museum in 1958. In the few rooms of the house the nuns tried to recreate the atmosphere from the time when the writer was still alive. The house has a big covered porch where Al. Vlahuta held meetings with other writers and talked about literature.
5.The Religious settlement from Varatec is composed from "Adormirea Maicii Domnului" Church (The Departure of St Mary Mother of Jesus), "Sf Ioan Botezatorul" Church (St Joan the Baptizer) that dates from XIX century – where you can also visit the tomb of Veronica Micle (the inspirational muse of our grates poet Mihai Eminescu) – and "Schimbarea la Fata" Church (a church built to commemorate the moment when Jesus changed his appearance on top of a mountain). The monastery is built like a fortress: inside its walls you'll visit the old church and a museum of old art.