Winter images from Ceahlau Mountain on the route Curmatura Stanile – Dochia Chalet
22 December 2011
No Comment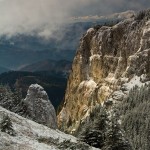 If you love winter and outdoor walks on mountain trails you can enjoy all that on Ceahlau Mountain where you'll find some spectacular scenery. Snowflakes and huge stones covered in snow you'll see on the route that starts in Bicazul Ardelean village and marked with a blue line.
Walking on this route will guide your footsteps on Bistra creek valley. From here the road goes to the right into the forest until it reaches the place called "Curmatura la Scaune". The dirt road continues through the forest until it reaches Stanile Plane where you'll have the chance to admire the south-west side of Ceahlau Mountain, Butu's Tower Stone and the stone wall of Ocolasul Mare Peak.

Ceahlau Stanile winter 2011, Neamt County
From Stanile Plane, where there is also "Sf Antonie" Hermitage the route continues on the dirt road until the touristic marking directs you into the forest. This is the final part of the trail that will take you to the top of Ceahlau Mountain.


On top of the mountain, the winter images will overwhelm you. You'll see the peaks of Hasmas, "Pietrele Rosii" Stones and "Magura Grintiesului". The trail will take you Dochia Chalet and will pass near a stone called "Piatra Lacrimata" (The Weeping Stone – named like this because it looks like a crying man) and near "Stefan cel Mare" Monastery.