Touristic attractions on top of Ceahlau Mountain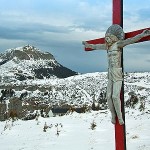 With a great history behind, Ceahlau Massif offers to tourists unforgettable experiences. For those that love hiking there are 7 well marked touristic routes that will take your footsteps near interesting shaped rocks famous for their legends.
The top of Ceahlau Mountain represents the place where you realize that your effort was worth it. The top of the mountain is in the shape of a plane of 6 km long and over 1 km wide. Between Ocolasul Mare Peak and Toaca Peak there are few other smaller peaks like "Batca lui Ghedeon" and Lespezi.
From the edge of the mountain you can admire the surrounding rocks that are full of old legends: Panaghia, "Claia lui Miron", Budu's Tower, Detunatele or "Caciula Dorobantului" stone.

Touristic attractions on Ceahlau Mountain, Neamt County
On Toaca Peak you can climb on a steep trail. From here you'll have some of the most interesting panoramas over the entire area, including the top of Ceahlau Mountain. If you look from Toaca Peak toward "Stefan cel Mare" Monastery you'll also see in the background the rocky cliffs of Vithovos Peak and Highes. The church of the monastery was built in 1993 and it's located near Dochia chalet.


The beauty of this holy mountain, the wealth of the flora and fauna makes form Ceahlau Mountain one of the most well known and visited mountains in Romania.