Ceahlau Mountain celebrated with music and folkloric dances
14 August 2013
No Comment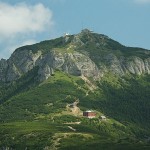 Between August 3 and 6 2013 took place in Durau resort the Festival of Ceahlau Mountain. This festival summoned more events like the Day of Ceahlau Mountain, the Day of Ceahlau Commune and the International Folklore Festival.
The Festival of Ceahlau Mountain promoted the touristic potential of the area and local traditions and cultural values. The local artisans were present with an exhibition of traditional handmade objects. There was also a photography and old postcards and photos related to Ceahlau Mountain.
On August 4 there was a folkloric costume parade followed by traditional music. The evening ended with fireworks. On August 5 took place the conference "Ceahlau – nature, history and tourism" at Bistrita Hotel from Durau.

Ceahlau Mountain days Augus 6 2013
August 6 was the day when pilgrims climb on top of Ceahlau Mountain to participate at the religious service held at the monastery from that place. At the religious service also participated the Mitropolit of Iasi, Bucovina and Moldova Teofan.