Lacul Rosu Resort – Neamt County
24 September 2009
2 Comments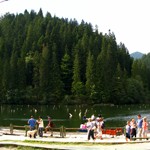 Location: The resort Lacul Rosu is located in a small hollow mountain, near Cheile Bicazului, at an altitude of 983 m
The resort Lacul Rosu was founded in 1837 as a consequence of a natural disaster, that instead of destroying the place it actually created a natural piece of architecture under the form of a lake with the trees trapped in it. Because of the reflection of red stone the lake is called the Red Lake (Lacul Rosu).
Of course that we can also talk about a legend according to which the formation of the lake is related to the kidnapping of a beautiful girl. She was taken into the forest and held prisoner in a cave. They say that the girl cried so hard that her tiers determined the mountain to create a landfall that killed the girl, her kidnapper and a shepherd with his flock of sheep. Their blood colored the waters of the lake in red and hence the name Red Lake.
After the year 1857 this beautiful place became a touristic point for many people that were attracted by the natural beauty of the lake and the flora and fauna founded here. The first cabin was built in 1910.
The resort has a harsh climate with cool summers and cold winters. The fresh air stimulates the body and has a positive effect on stress and physical and intellectual breakdown
The resort is best suited for those that search a peaceful place and love mountain hackings. The routes that can be taken here are: Lacul Rosu – Cheile Bicazului , The peak Suhardu Mic, The peak Suhardu Mare and The peak Ucigasu. For the sky lovers, in winter there are sky slopes up to 2 km long.