Touristic Tour in the town Targu Neamt and its surroundings
28 December 2009
No Comment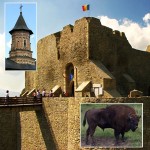 Targu Neamt – Neamt Stronghold – Memorial House Veronica Micle – History and Ethnography Museum Targu Neamt – Memorial House Ion Creanga – The Aurochs Reservation "Dragos Voda" – Monastery Neamt – Memorial House Visarion Puiu and the Museum Mihail Sadoveanu – Hermitage Vovidenia.
A touristic tour of one day in the area of the town Targu Neamt, where the famous storyteller Ion Creanga lived and where Stefan cel Mare ruled, can be a real challenge for the tourist that wants to discover a small part of the beauties, traditions and culture of this part of Romania. To start this tour you can begin at the Neamt Stronghold, which is one of the strongest building of the medieval Moldavian state. The stronghold is located on top of the Culmea Plaiesului and it seems as it's watching down to the town of Targu Neamt in a protective way.
The next stop, when you return from the Neamt Stronghold, is the Memorial House Veronica Micle. Across the street you can visit the History and Ethnography Museum that is located in the former school where Ion Creanga and Vasile Conta learned.
Then, right at the exit of the town to Piatra Neamt, you have to stop at the Memorial House Ion Creanga: this is the place where our greatest storyteller was born. From here we go to discover the places that Ion Creanga talked about. So, we walk along the river Ozana, by following the road DN 15 and we reach the Rezervation of Aurochs Dragos Voda and then Monastery Neamt. The reservation of aurochs is one of the greatest in Europe exclusively dedicated to the aurochs.
After the reservation you can go to the Monastery Neamt, which is the oldest monastery from Moldavia. This place is also called "The Jerusalem of the Romanian Orthodocy" and it hosts the oldest library with monastic books.
Near the Monastery Neamt, you can visit the Memorial House Visarion Puiu and the Museum Mihail Sadoveanu. Right beside the memorial house there is the hermitage Vovidenia, also called "The Altar from the Peaceful Plane".