Hiking Route in Cheile Bicazului: Saua Tifra – Lacul Rosu
5 February 2010
No Comment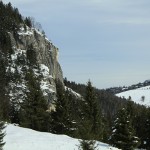 The hiking routes from the area Cheile Bicazului are harder to do during winter but worth all the effort to admire the frozen nature. An easy ride where you could admire some of the spectacular scenery from this place would be the hiking route that goes to the place called Saua Tifra. You can get here by choosing the hiking route number 7, bookmarked with a yellow triangle and which goes from Cheile Bicazului to Saua Tifra, Drumul Vararilor, Saua Piatra Rosie and finishes in the middle of the Lacul Rosu resort.
The route starts on the national road DN12C, right before the place called Poarta de Piatra (The Stone Door). From here the trail enters the forest and climbs to the base of the Stone "Piatra Maria" where your eyes are drawn to the big pieces of rock torn apart from the big stone. After this point the road takes you through the forest and on a vast plane called Saua Tifra, located at 1002 m altitude, from where you can see the Valley of the Bicajel. Before your eyes is one of the most spectacular scenery you'll ever see: enormous rocks that seem to guard the entrance in the Bicajel Valley.

The steps take us through the small village called Bicajel which seems to have a special something: it seems separated from the rest of the world. Almost frozen in time, like a memory of how a true mountain village used to look many, many years ago. After we pass the village we reach a forest-road from where we can admire the stones Suhardul Mic, Gradina Zanelor and Fagetul Ciucului. It doesn't take long and we arrived in the center of the resort Lacul Rosu. The total length of the hiking route is about 3,5 km. When you return you can do it on the national road and admire the famous Cheile Bicazului under ice.