Touristic Guide: Izvorul Muntelui from Neamt County
7 February 2011
No Comment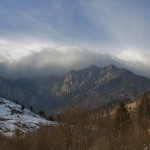 Any trip to a mountain area from Neamt County implies a good knowledge of the place by consulting a touristic guide that will provide all the necessary information on touristic attractions, route maps, camping places, accommodation possibilities and entertainment. Ceahlau Mountain from Neamt County represents the biggest touristic attraction from the Eastern Carpathians and it's also considered to be the second holy mountain of Christianity, after the Athos Mountain. This is one of the reasons for which this mountain is so present in writings by our greatest writers: Alexandru Vlahuta, Calistrat Hogas or Mihail Sadoveanu.
Izvorul Muntelui area is located at the base of Ceahlau Mountain and it's the starting point of hikers that want to conquer the heights of Ceahlau. The mountain routes offer to tourists the possibility to explore the surroundings, to walk on mountain trails and to see unique and spectacular views.

Photos from Izvorul Muntelui, Neamt County
There are three mountain routes that start from Izvorul Muntelui village: Curmatura Lutu Rosu (this is the shortest route to the top), "Poiana Maicilor" Plane – "Claile lui Miron" Stones (the longest and the most beautiful route that starts in Izvorul Muntelui) and Jgheabul cu Hotaru (a beautiful route that starts by walking on a paved road for few km). On top of Ceahlau Mountain, tourists can camp or they can accommodate at Dochia Chalet.
Izvorul Muntelui is considered the second gate that offers entrance in Ceahlau Mountain. The beautiful location of this place makes it the perfect spot for a relaxing 3 or 4 nights stay.
If you're interested in the history of this area you can visit the History and Ethnography Museum from Bicaz. The museum is located in a building constructed in 1909 by the architect Carol Zane. The exhibition is dedicated to Bistrita Valley and it also hosts 102 paintings donated to Bicaz town by the painter Iulia Halaucescu (also known as "The Lady of Romanian watercolors").
The pensions from Izvorul Muntelui are placed in spectacular sceneries and offer good accommodation possibilities that will combine traditional Romanian food in a rustic design with modern facilities. The beauty of being accommodated in such a place is the view you'll have every morning: Ceahlau Mountain in all its beauty.
This area is recommended for the entire family but those that love outdoor walks will absolutely love it. The natural environment makes this village perfect for sportsmen that want to enjoy some pleasant days surrounded by nature.
You can also visit Izvorul Muntelui Lake by driving on the impressive Bicaz Dam. You can enjoy the entertainment facilities from here by going on the lake with a boat or a roam boat. As secondary options you can visit by car Cheile Bicazului or the twisted road that goes along Izvorul Muntelui Lake (and that offers some spectacular images over Ceahlau Mountain) until you reach Poiana Teiului village.