The beauty of lakes from Neamt County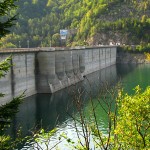 In Neamt County there are 5 beautiful lakes. The main attraction of these lakes is represented by the raw natural beauty of these places. Every year tourists that visit Neamt County spend few of their time on the shore of one of these lakes and admire the natural beauty and the fauna of these waters.
Lake Izvorul Muntelui is also known as Lake Bicaz and it's located few km from Bicaz town on the upper course of River Bistrita. This is the biggest lake of its kind from Romania. Near the dam from Bicaz there is also an entertainment port where tourists can rent water-bicycles, take a small cruise on the lake or enjoy a traditional fish dinner.
Lake Batca Doamnei represents an important element of Piatra Neamt. From here you can admire Ceahlau Mountain and you can also hike on Batca Doamnei Hill to see the remains of a Dacian fortress.


Lake Vaduri is located nearby Preluca and Pangaracior communes from Neamt County. It represents an important link in maintaining the biodiversity of the natural habitats from this part of Europe.
Lake Pangarati is located between Stanisoara Mountain and Gotmanu Mountain, near Pangarati commune. The lake is formed on the upper course of River Bistrita and is the first dam lake located near the hydroelectric Dimitrie Leonida from Stejaru. Tourists can admire the swans that come here from the benches placed on the shore of the lake.
Lake Cuejdel was formed on Cuejdel creek and is the biggest natural dam lake from Romania. The lake is located about 25 km from Piatra Neamt in Garcina communted by a natural disaster when a big part of the forest collapsed and formed a natural dam.