Visit the museums from Piatra Neamt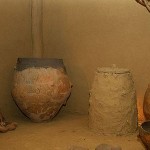 The History and Archeology Museum from Piatra Neamt was founded in 1934 by the priest Constantin Matasa. The main exhibition of the museum is composed by objects that are from the National Thesaurus that represent the evolution of the human communities from this area starting with the Paleolithic period and ending in our time.
The Museum for Neolithic Art Cucuteni was inaugurated in the summer of 2005 and it's the first museum for the Cucuteni Art from Romania. The museum is organized in its own building located across the street from the Architectural Complex "Curtea Domneasca" from Piatra Neamt and it displays over 300 pieces from the Cucuteni and Pre-cucuteni cultures – these objects are included in the category of "thesaurus object" for the national heritage.
The Natural Science Museum from Piatra Neamt was first opened for public in 1960 and the permanent exhibition is organized as a monographic presentation of Neamt County from different points. Today, the museum has approximately 40000 pieces in its collection of fauna and 10000 pieces that represent the flora from this area. You can also see a unique collection of fossilized fishes.
The Art Museum from Piatra Neamt represents a panoramic vision of the evolution of art (paintings, graphics, sculptures, tapestries) made by Romanian artists at the end of the XX century. In works of sculptors like Ion Irimescu and Ion Jalea, painters like Gh Petrascu, Fr Sirato, N Tonitza, Corneliu Baba we can see the period between the two World Wars – a period marked by the incidence of the European currents evolved in the XX century.

Visit museums from Piatra Neamt, Neamt County
The Ethnography Museum of Piatra Neamt: The first ethnographic collection of the museum is from 1960 and it's composed from approximately 1,000 pieces. Today, the main collection of the museum offers elements of the traditional house of the Romanian peasant from Bistrita Valley, folk costumes from this area and also the main handicrafts (weaving, woodworking) from the sub-Carpathian region of Moldavia – Romania.
The Memorial Museum "Calistrat Hogas" from Piatra Neamt was first opened in 1969 in the house were the writer Calistrat Hogas lived. The house was built in 1885 and its architectural style is characteristic to that area, being included in the list of protected architectural monuments from Romania. The exhibition contains family documents, manuscripts, pieces of furniture and objects that belonged to the writer.