Carbuna Hermitage – Neamt County
20 August 2010
No Comment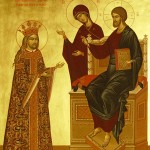 Carbuna hermitage is located in Neamt County, near Dragos Voda Aurochs Rezervation and you can reach it by foot from the reservation. The hermitage is located in Vanatori village at approximately 3 km from Neamt Monastery.
The land on which the hermitage was build is the property of Neamt Monastery and in the past this was the place from where they used to defend and organize the life in Neamt Stronghold. Also, here was a place where people once processed wood coal with the purpose of making the iron used at Neamt Monastery.
During the two World Wars here was a place where many battles were fought and this is the reason for which many Christians come here to honor the fallen heroes of our country. In the cemetery where they buried the soldiers that fought here, in 1995 a crucifix was build and the religious service was held by Prea Fericitul Parinte Patriarh Daniel ("Prea Fericitul Parinte" means Holy Father and "Patriarh" is the highest religious function – the head of the Romanian Orthodoxy).
In 2001 Prea Fericitul Parinte Patriarh Daniel established Carbuna Hermitage here where so many soldiers died to defend our country, with St Stefan cel Mare as its Holy patron. The hermitage is build in the middle of an oak plantation near the cemetery where heroes from the Second World War are buried. The hermitage is administrated by Neamt Monastery. Between 2001 and 2003 a set of cellars were build for the monks that live and pray here.
From Carbuna Hermitage you can walk to Neamt Monastery or to other hermitages of the monastery: Vovidenia Hermitage, Pocrov Hermitage, Icona Veche Hermitage.
Read more information about Neamt Monastery (history, attraction points, images, video and its hermitages).