Visit the museums from Targu Neamt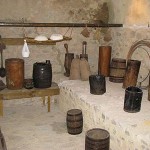 The History and Ethnography Museum from Targu Neamt – Here we can find a summary of the medieval history of Targu Neamt as well of the handcrafts from the Neamt area. In the inner court of the museum you'll see traditional machines for the processing of fruits, seeds, wood and wool.
Neamt Stronghold is a medieval stronghold from Moldavia – Romania and it's located near the town Targu Neamt at approximately 46 km from Piatra Neamt. The construction is near the highest peak of the hill Culmea Plesului and it was declared a medieval monument in the National Heritage. Because of its strategic position and the events that happened here the Neamt Stronghold was one of the most hardened fortresses of Moldavia – Romania.
The Memorial House "Ion Creanga" from Humulesti, Neamt is the place where our grates storyteller Ion Creanga (also known as Nica the sun of Stefan a Petrei) was born. The house is built in a traditional architectural style and represents the essence of the people that lived in these places at that time: common sense and modesty. All the elements described by Ion Creanga in his book "Memories from my Childhood" are there: the stove, the chairs, the threads used by cats to play all day long.

Visit museums from Targu Neamt, Neamt County
The Memorial House "Veronica Micle" from Targu Neamt is one of the houses that belonged to the poet Veronica Micle that was very dear to her. The exhibition contains personal objects that belonged to Veronica Micle, the muse of our grates poet Mihai Eminescu.