Touristic Attractions in Roznov Area
22 September 2011
No Comment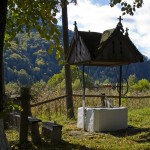 Roznov area is a great touristic destination because of the cultural touristic attractions and the natural environment in which is located. Tourists can visit all these places and also see a glimpse of the traditional village in Neamt area, our cultural and spiritual values.
The church St Nicolas from Roznov – The church is located in the park from Roznov and it was built at the end of the XIX century by the famous political man, the colonel Gheorghe Ruset Roznovanu, in memory of his sun Alexandru who died at the age of 20 by pneumonia. The building has an unusual architecture for the area at it resembles a church with Russian influences.
Duras Waterfall from Negulesti village – Duras waterfall is located about 4,5 km from Negulesti Resort on Iapa Creek. The road starts in Negulesti Resort and continues towards "Ocolul Silvic Frasin" Forest Bureau where you'll find a wooden barrier. From here at about 300 meters on the left, among the trees you'll see the spectacular sight of Duras waterfall. To reach the waterfall you'll have to descent a pretty steep slope and cross the water.


Nechit Monastery – The church from Nechit is built on a plane from the west side of Nechit village and it's surrounded by woody hills. This place was chosen by the monk Nechit. He lived and prayed in these places and he is the one that gave the name of the village, the river and of the monastic settlement. The first stone church was made in the year 1875 and so the Hermitage Nechit became once again a prosper monastic place. From an architectural stand point the church is made out of stone and brick with a clover shape. It has two towers, one of them being used as a bell tower.

Tazlau Monastery – The monastery from Tazlau is first mentioned in a document from October 30, 1458, when ruler Stefan cel Mare re-enforces the walls of the monastery. Between 1496 and 1497 a stone church was built on top of the old wooden church built by ruler Alexandru cel Bun.