Old Monasteries from Neamt County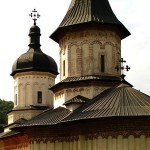 Here, in Neamt County you can visit some of the oldest monasteries from Romania. We also have the highest number of religious settlements from the country. The high number of monks that lived over time in the mountains from Neamt County is reflected in the high density of religious settlements. The monasteries from Neamt County reflect the religious life from these places but also represent a glimpse of pure Romanian history.
You can start with the oldest monastery from Neamt County, Neamt Monastery, built in XIV century by Musatin family. Continue your journey with Bistrita Monastery, built by ruler Alexandru cel Bun in XIV century. This is also the place where you'll find his tomb.
After that, in chronological order, visit the monasteries built by Stefan cel Mare in XV century: Tazlau Monastery, built in 1487 and Razboieni Monastery built in 1496. In the same century were built Iosif Hermitage that later was transformed in Bisericani Monastery, built by Bogdan the III-rd and Petru Rares, Agapia Veche Monastery and Silvestru's Hermitage.


From the XVI century you can visit Pangarati Monastery (known for the unique architecture of the old church that is basically formed by two churches on top of each other), built by Alexandru Lapusneanu in 1560, The Hermitage from Valeni and Zosima's Hermitage that later, in 1602, became Secu Monastery.
In the XVII century monasteries from Bistrita Valley and Ceahlau were built. Here we can remind you about Peon Hermitage (on top of it was built Palatul Cnejilor that is now a ruin), Hangu Hermitage built by Miron Barnovschi in 1627, Durau Monastery, Agapia Monastery in 1644, Atanasie's Hermitage in 1655 and Secu's Hermitage in 1734.
Because of these numerous monasteries Neamt County becomes over time an important destination for pilgrims from all over Romania. From the XVIII century we can recommend you to visit Pocrov Hermitage, built in 1714, Almas Hermitage, built in 1715 that later became Almas Monastery, Sihla Hermitage, built in 1730, Vovidenia Hermitage, built in 1754, Horaicioara Hermitage, built in 1763, Tibucani Hermitage, built in 1764 and Varatec Monastery built in 1785.
From the XIX century we can talk about Icoana Hermitage, built in 1823, Horaita Monastery, built in 1830 and Tarcau Monastery, built in 1833.
The spiritual and historic heritage offered to Romania by the monasteries from Neamt County is priceless. It doesn't matter if you are impressed by these locations as great religious places or you are interested about the historic and architectural importance of the monasteries from Neamt County, you'll definitely have something interesting to see and tell your friends.